Plane Stupid climate change activist taped men who offered cash for information about group's members and activities
Listen to the tapes and read the transcripts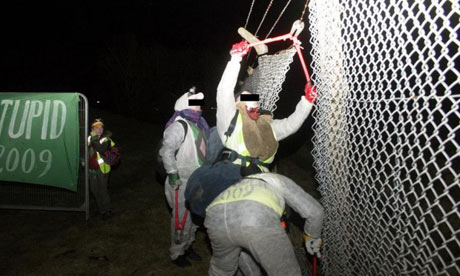 By Paul Lewis

Undercover police are running a network of hundreds of informants inside protest organisations who secretly feed them intelligence in return for cash-in-hand payments, according to evidence handed to the Guardian.

In the material, the police claim to have infiltrated a number of environmental groups and say they are receiving information about leaders, tactics and detailed plans of future demonstrations.

The dramatic disclosures are revealed in almost three hours of secretly recorded discussions between covert officers, claiming to be from Strathclyde police, and Matilda Gifford, an activist from the protest group Plane Stupid. The officers attempted to recruit Gifford as a paid spy after she was released on bail after a protest at Aberdeen airport last month.

Gifford, 24, said she recorded the meetings in a bid to expose how police seek to disrupt the legitimate activities of climate change activists. She had two meetings with the officers, who said they were a detective constable and his assistant.  …

Gifford's lawyer, Patrick Campbell, said: "I have very considerable concerns about these events. There appears to be a covert operation that is running in some way with, or using Strathclyde police's name. There appears to be a concerted effort to turn protesters to informants and possibly infiltrate peaceful protest movements.

"The methods employed are disturbing, and more worrying yet is the lack of any clearly identifiable body responsible for this. These individuals seem to have some kind of police support or at the very least connections with the police – the access to police stations confirms that – but my concern is the lack of accountability and the threat to the individual and her right to protest." …

Listen to the tapes and read the transcripts

Read the full investigation in tomorrow's Guardian.
Police caught on tape trying to recruit protester as spy